Posted November 17th, 2021
Arts Nova Scotia and the Creative Nova Scotia Leadership Council are pleased to announce that Shauntay Grant has been awarded the 2021 Black Artist Recognition Award.
Hear Shauntay speak about her win on CBC Mainstreet NS with Jeff Douglas at 3:08 PM Wednesday, November 17.
About Shauntay Grant
Shauntay Grant is a poet, playwright, author, and multimedia artist. She is a descendant of Black Loyalists, Jamaican Maroons, and Black Refugees who came to Canada during the 18th and 19th centuries. A multidisciplinary artist with professional degrees in creative writing, music, and journalism, she "creates artworks that are engaging and accessible, but also challenging, rigorous, and informed by deep research (The Royal Society of Canada)." Her honours include a Joseph S. Stauffer Prize from the Canada Council for the Arts, a Robert Merritt Award for her stage play The Bridge, a Marilyn Baillie Picture Book Award for Africville, and a Poet of Honour prize from the Canadian Festival of Spoken Word. A member of The Royal Society of Canada's College of New Scholars, Artists, and Scientists, she teaches creative writing at Dalhousie University, shares her blend of words and music internationally at festivals and events, and collaborates with visual artists and art galleries to create multidisciplinary artworks, installations, and exhibitions. She curated the exhibition Stitched Stories: The Family Quilts (Dalhousie Art Gallery, 2016), and the multimedia installation Grandmother, Teach Me (Art Gallery Of Ontario, 2017). Her literary work has been commissioned by Symphony Nova Scotia, Eastern Front Theatre, Against The Grain Theatre, and Obdisian Theatre among others. A former poet laureate for the City of Halifax, her poetry for children and adults has been published in educational resources, anthologies and literary journals. Her forthcoming poetic picture book My Fade Is Fresh will be published in 2022 by Penguin Books.
Website: www.shauntaygrant.com
Social Media: https://www.facebook.com/shauntay.grant/

About the Award
In 2020 Arts Nova Scotia and the Creative Nova Scotia Leadership Council announced the creation of a new Black Artist Recognition Award. The Black Artist Recognition Award is open to artists of African descent who have emerged from their initial training and development to become recognized, established artists in Nova Scotia. This award helps toshowcase the recipients' work to residents of the province and to people beyond our borders. This visibility is meant to encourage artistic and economic well-being for the recipients and contribute to the health of Nova Scotia's artistic sector in support of a well-rounded community. The award is funded by the Nova Scotia Arts Endowment Fund and carries a cash value of $5,000.
For the inaugural award, ceramic artist and potter Julian Covey was commissioned to create a new physical award. From Julian:
This piece is inspired by movement, energy and creative force. I am interested in the idea of artists as pillars in the community in combination with the symbolic imagery of trees (which are often associated with wisdom, resilience and physical/spiritual nourishment).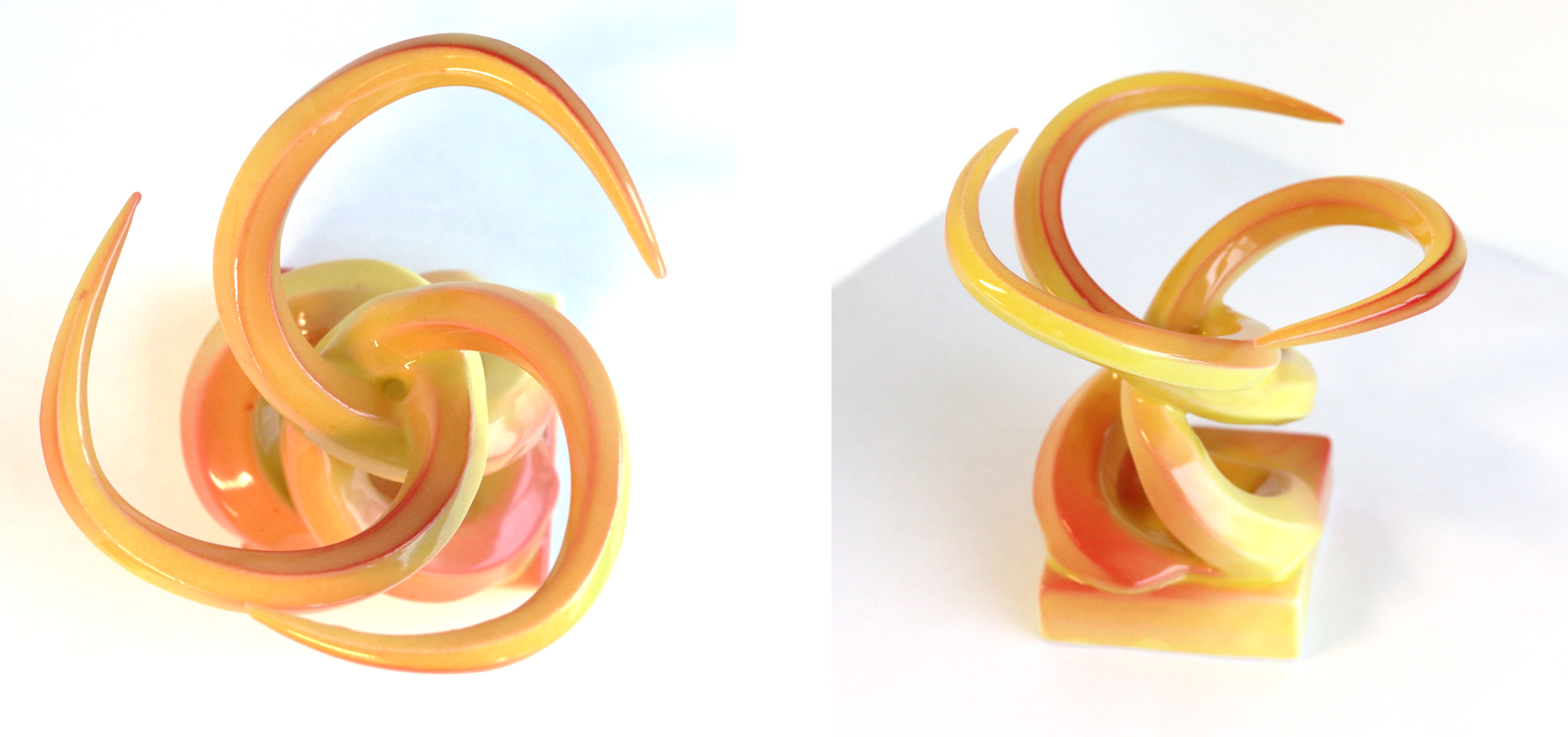 About Julian Covey
Julian Covey is a queer mixed-race K'jipuktuk/Halifax based award-winning ceramic artist and potter. He finished his studies at the Nova Scotia College of Art & Design in 2018. He was born in Sydney, Nova Scotia and is currently the President of the Board of Directors of Visual Arts Nova Scotia. Julian maintains both sculptural and utilitarian ceramic practices and remains active in his community. He is very passionate about ceramic art and design as he believes that clay has an inherent ability to record and communicate complex ideas through its materiality and culture. We are so pleased to engage Julian to create this award and his original design will be a lasting legacy for years to come. 
About the Creative Nova Scotia Awards
Presented by Arts Nova Scotia and the Creative Nova Scotia Leadership Council, these annual awards celebrate excellence in artistic achievement from artists across the province. The most notable award, the Portia White Prize, recognizes cultural and artistic excellence by an artist who has attained professional status, mastery and recognition in their discipline. The recipient of the award receives $18,000 and the remaining $7,000 is awarded their chosen protégé.
Other awards include the Prix Grand Pré, the Established Artist Awards, the Emerging Artist Awards, the Indigenous Artist Recognition Award and the Creative Community Impact Award.  And new to the awards this year is the Black Artist Recognition Award.
Collectively, the awards are worth $75,000.