Posted November 6th, 2023
The Creative Nova Scotia Awards were presented to 10 artists and one organization Friday evening, November 3, recognizing their excellence in artistic achievement.
"Nova Scotia is known for its artistic and musical talents, and the presentation of these awards every year showcases artists' exceptional talent and work," said Allan MacMaster, Minister of Communities, Culture, Tourism and Heritage. "Congratulations to all award recipients for your success and achievements locally and on the world stage. Your recognition is well deserved."
The $25,000 Portia White Prize was awarded to Juanita Peters, an actor, journalist, news anchor, playwright and film and theatre director. Her latest film, 8:37 Rebirth, has received multiple awards in Canada, New York, London and Paris. Peters, the Executive Director of the Africville Museum in Halifax, is a founding member of Women in Film and Television Atlantic, as well as a founding member of Atlantic Canada's newest multicultural festival, Nova MultiFest.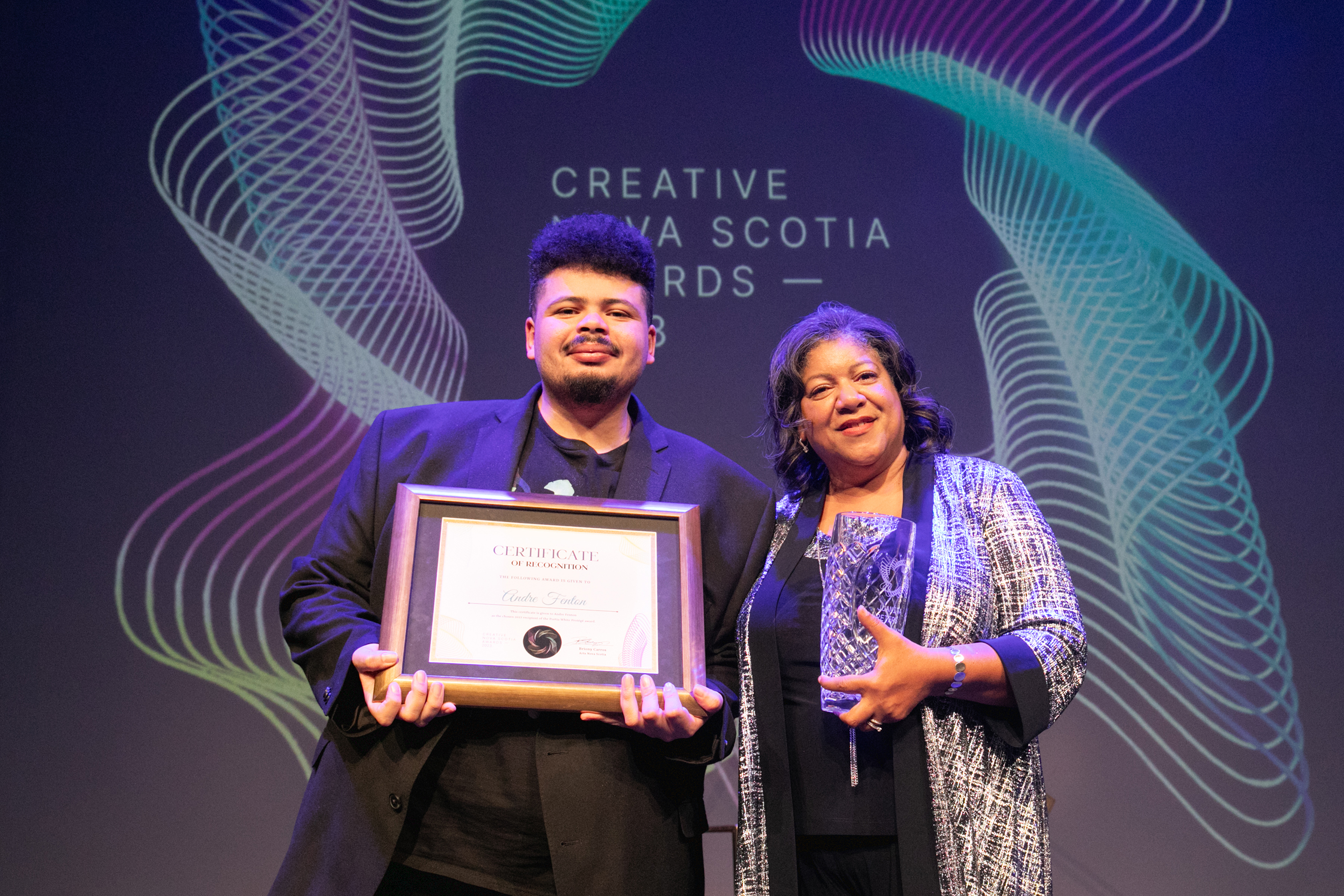 Peters received $18,000, and the remaining $7,000 was awarded to her chosen protégé, Andre Fenton, an award-winning African Nova Scotian author, spoken-word artist and arts educator. He has represented Halifax at seven national poetry festivals across Canada and is the author of three young adult fiction novels.
The $5,000 Black Artist Recognition Award was presented to Jah'Mila, a reggae singer from Kingston, Jamaica, who is now based in Atlantic Canada. Jah'Mila uses her music as a platform for entertainment and activism, advocating for community, inclusion and support for the arts.
The African Nova Scotian Music Association received the $10,000 Creative Community Impact Award for the positive impact it has made on the African Nova Scotian community through arts and culture.
Nancy Oakley, a visual and craft artist from Eskasoni First Nation, received the $5,000 Indigenous Artist Recognition Award. This award recognizes Indigenous artists who have emerged from their initial training and development and are active in the Nova Scotia/Mi'kma'ki arts community.
Musician P'tit Belliveau received the $5,000 Prix Grand-Pré Award, which recognizes artists whose work reflects Acadian cultural values and demonstrates excellence and originality.
Two artists received the $5,000 Established Artist Recognition Award:
Garry Williams is an actor, director, singer, writer, musical director and composer-lyricist. He has written more than a dozen scores and scripts and appeared in many productions in Nova Scotia and across Canada.
shalan joudry is a Mi'kmaw mother and multidisciplinary narrative artist. She is a poet, playwright, oral storyteller, singer and podcaster. Using her theatrical background, she brings Mi'kmaw stories to a new generation of listeners, as well as recounting personally crafted narratives.
There are three recipients of the $5,000 Emerging Artist Award:
Marissa Sean Cruz is a digital multimedia and video performance artist from Halifax whose topics of interest are related to labour, power and surveillance as seen through digital platforms and pop culture.
Lydia Zimmer, a graduate of Boston Conservatory, is a dancer and choreographer who has created several works supported by the Canada Council for the Arts and Arts Nova Scotia.
Koumbie is an actor, director, writer and producer based in Halifax and has appeared in several local productions and directed a number of award-winning short films.
Quotes:
I'm proud of the award winners – Juanita Peters, Andre Fenton, Jah'Mila and the African Nova Scotian Music Association – who, through their art and actions, perfectly exemplify the power and impact of raising awareness and fostering dialogue that can drive social change. Twila Grosse, Minister of African Nova Scotian Affairs

Juanita is an artist of maturity and grace. She epitomizes the community mindedness, perseverance and commitment that marked the career of Portia White. Thom Fitzgerald, Nova Scotia film director

Garry Williams is a force of nature. Whether performing, writing, directing, teaching, coaching, gathering queer ensembles, devising, singing, producing or dreaming, this gently fierce man has made the world a better place by being in it and has made a significant impact on culture in Nova Scotia. Colleen MacIsaac, nominator
Quick Facts:
this is the 18th year for the Creative Nova Scotia Awards
the awards are presented by Arts Nova Scotia and the Creative Nova Scotia Leadership Council
the awards are worth $75,000 in total
Additional Resources:
Award recipients' biographies: https://artsns.ca/news
Award descriptions: https://artsns.ca/programs
More information on the Portia White Prize is available at: https://artsns.ca/programs/portia-white-prize